IMPORTANT INFORMATION
Offer of Possession given for Kalypso Court Towers- 7 & 8, as per occupancy certificate issued by Noida Authority And Occupation Certificates received for Kalypso Court Tower -11 & 12. Possession formalities in progress

Letter dated 17-11-2022 from Office Assistant Inspector General - G.B. Nagar

Latest Construction Pictures of Kalypso Court Tower 7, 8, 11 & 12 (Jul'2022)

Latest Construction Pictures of Knight's Court
(Nov'2022)

Latest Construction Pictures of Kensington Park Apartments & Heights (Jan'2022)

Knight's Court Construction Milestones Status

Order of Noida Authority regarding deemed approval of building drawings of Residential plots of Wish Town

Mirage 2000 Fighter Jet Successfully Test-Lands on Yamuna Expressway Near Delhi as Part of Trials
Thursday, May 21, 2015
NEW DELHI: It's a kind of first for military aviation in India. The Indian Air Force has carried out a successful trial of landing a combat jet on the Yamuna Expressway near Mathura on 21st May'15, Thursday.
As part of drills for emergency landings on national highways, a Mirage 2000 fighter jet of the Indian Air Force (IAF) test-landed this morning at 6.40 am, on the renowned Expressway.
The six-lane, 165 Km Yamuna Expressway on the outskirts of the capital connects to Agra in Uttar Pradesh, and has been built by Infrastructure major Jaypee Group. The fighter plane, which flew down from Gwalior in Madhya Pradesh, skimmed the highway and landed briefly before taking off again. Local people were awestruck at the sight.
According to reports, for a segment to be used as a road runway, it is required to be straight, level and located on a non-undulating ground without any slope. The plane landed twice on Yamuna Expressway, near the exit for Mathura, where the Prime Minister rally is scheduled to be addressed on May 25.
The operations were conducted with active support from the government of Uttar Pradesh, Yamuna Expressway Authority, toll authorities of Jaypee Infratech and the civil police.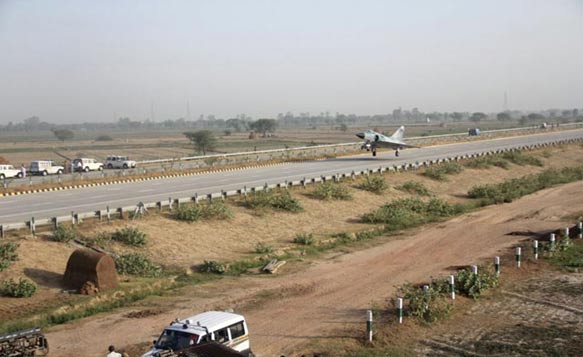 IAF's Mirage 2000 successfully landed on Yamuna Expressway near Mathura on Thursday. (Photo courtesy: IAF)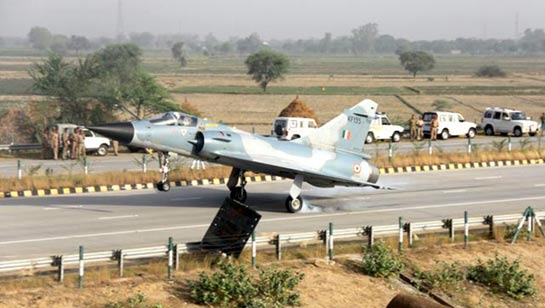 The Mirage-2000 touches down on Yamuna Expressway. (Photo courtesy: IAF)